We are housing specialists. It's is all we do. All day. Everyday.
Regardless if its for sport associations, corporate events, internship companies, government and groups travelling for training, conferences or meetings,
WE CAN HELP
.
Are you currently working with agencies that are becoming too expensive?
Are you looking for more affordable room options and better service?
Are you looking for customised housing solutions?
Bedssi is here to help you! Feel free to contact us to find out more.
We are happy to work closely with you and help you find options for your groups regardless of
Size of group: small or large (from 2 to 100+ guests)

Duration of stay: Short, medium or long stays

Destination city in Australia

Type of Guest: Interns, athletes, students or VIP

Type of room: Hotel, Apartment style living, hostels, residential colleges
Rating: From 3 to 5 star options.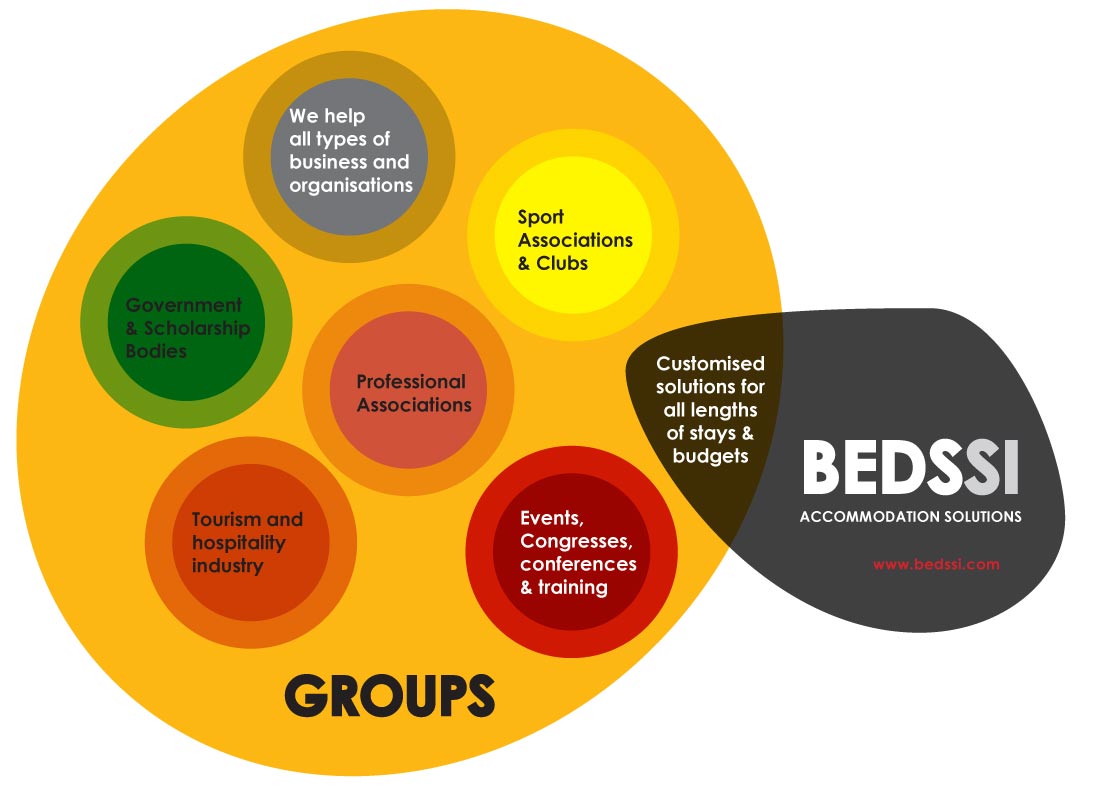 The reason we have recurring clients is because
All we do is transparent. You can even inspect the properties before committing to them.
You can also pay directly to them as we do not add anything on top of the prices we receive from them
We customise the solutions to suit your specific needs.
A happy client means: Less complaints for your organisation. A positive experience for the guests. Any issue that arises is dealt immediately and effectively.
We work very hard to achieve these three things.


ARE YOU SPENDING TO MUCH TIME TRYING TO FIND ROOMS FOR AN UPCOMING GROUP?
Have you wasted hours of your time and still have no solution?
We can help you. We understand the market and we have the experience, the contacts, the know-how and agreements in place.
Stop spending hours researching what the best option is for you.

We have successfully placed many interns and employees at all major Australian cities. We have also helped multi-city groups (very convenient for you as we become a single point of contact for several bookings).
LET US KNOW HOW WE CAN HELP YOU
It is a simple as:

Completing the Groups & Delegations form (takes 1 minute)
We will respond with several quote options (allow 3 working days)
You choose the best option. Rooms can be put on hold. We can also arrange inspections so that you can double check quality.
Initial payment is only made after you are certain and 100% sure about the proposed rooms.
It's that easy!

We d

o all the work for you.
YES! PLEASE HELP ME WITH AN UPCOMING DELEGATION
Read what our clients think about us